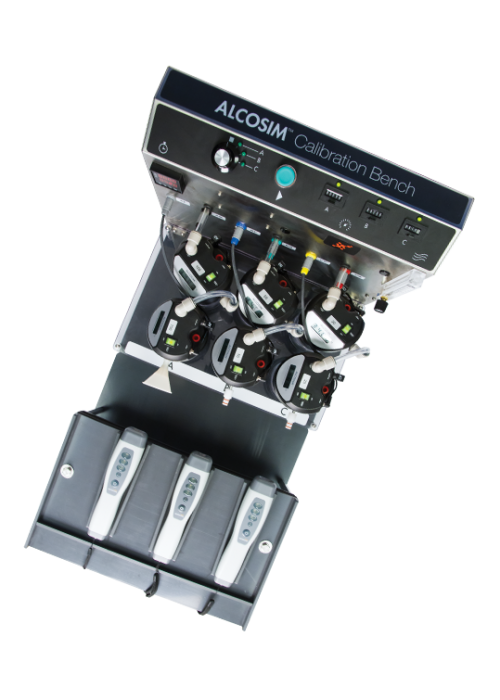 ALCOSIM™ Calibration Bench
Multi-stage calibration station
ALCOSIM Calibration Bench is a multi‑stage calibration station that optimizes gas flow and the use of alcohol reference solution, eliminating human error and providing consistent simulated breath samples for the calibration of portable breath alcohol testers.
Request a quote
Features
Multi-stage breath simulation
Three tandems of ALCOSIM breath alcohol simulators may be used with different concentrations of alcohol reference solution, calibrating a breath alcohol tester to a wide range of thresholds to accommodate varied operational requirements.
Precise and accurate
A breath sample counter monitors the calibration process and ensures that a maximum of 100 simulated breath samples per two bottles of alcohol reference solution is generated.
Adaptable
The adjustable test platform accommodates a variety of breath alcohol testers, including passive testers. The breath flow regulator controls the pressure and flow of the simulated breath sample, which may be adjusted to suit operational requirements.
Easy to use and maintain
Solid and sturdy, yet easy to assemble and disassemble, the ALCOSIM Calibration Bench is the most reliable, mobile calibration bench of its kind. Quick disconnect fittings attached to all tubing allow for quick and easy replacement of a simulator or alcohol reference solution.