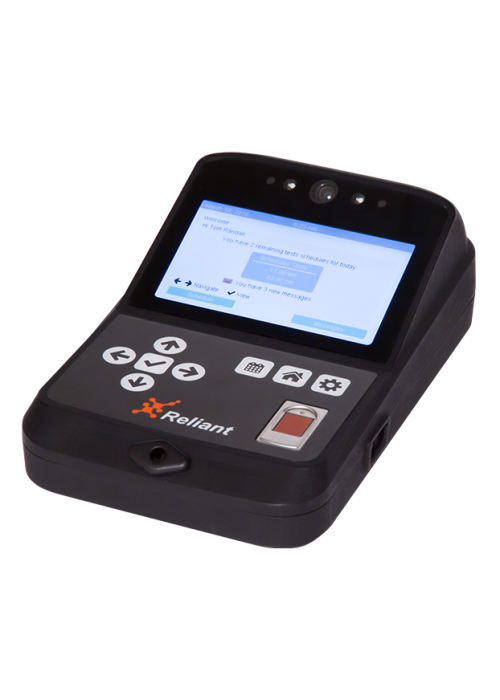 RELIANT™ VMU
Remote monitoring device
RELIANT VMU confirms the adherence to an alcohol-free lifestyle for those who require community supervision, home confinement or 24/7 remote monitoring. RELIANT VMU enables monitoring personnel to remotely determine compliance of the offender with location based breath alcohol measurements, biometric confirmation, facial images and interactive reporting capabilities.
Request a quote
Features
Biometric monitoring
RELIANT VMU uses a multi-faceted approach to confirm identity of the offender. Biometric identification by facial recognition, fingerprint scanning and ECG identity helps to thwart attempts at circumvention of the breath sample.
Anti-circumvention
RELIANT VMU is robust in construction and meets IP52 rating for safe, secure, remote use. The case is constructed with high impact plastic and tamper resistant fasteners. The unit also has shock sensors to report on any rough handling.
Secure data transmission
RELIANT VMU uses GPS coordinates with time and date monitoring and reporting through GSM, Wi‑Fi or LAN. The breath sampling system is isolated from the electronics to prevent wilful attempts at circumvention or damage to the function of the product.
Simple program enrollment
Client enrollment
The client is enrolled by their case officer and takes the device home
RELIANT VMU device
Biometric identification by facial recognition, finger print scanning and ECG identity
Central database
RELIANT VMU makes remote connection with the central database
Web portal
The client management application confirms online status for continuous supervision