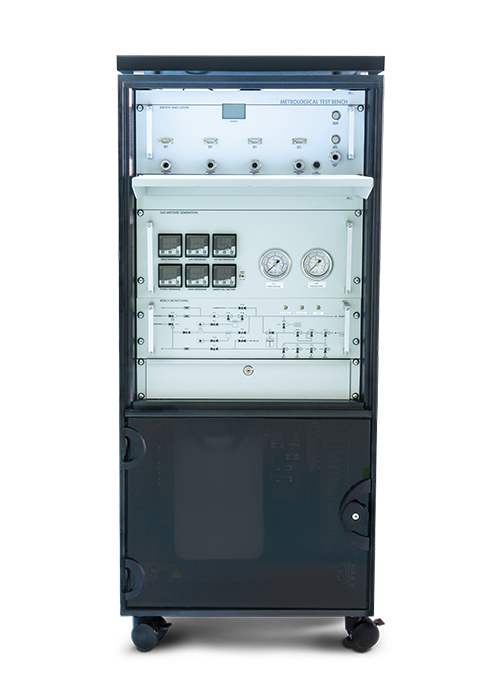 Metrological Test Bench
Multi-stage calibration station
The Metrological Test Bench replicates the composition, temperature, volume and pressure of human breath needed to verify, calibrate and certify alcohol testing products. It is designed to accommodate a variety of sensors, ethylometers and breath alcohol testing equipment, for both evidential and screening purposes.
Request a quote
Features
Multi-functional and customizable
The Metrological Test Bench generates alcohol reference solutions that are customized depending on test requirements.
Wet and dry calibration
In addition to the wet gas mixture, the Metrological Test Bench is configured to use dry mixtures, maximizing sample options.
Custom breath samples
The system is highly regulated and flexible, allowing laboratory technicians to change parameters to obtain the desired multiple component mixture for a complete range of alcohol concentrations.
Controlled temperature zones
Regulated zones inside the Metrological Test Bench ensure that the simulated breath sample is at a temperature comparable to a real human respiratory tract.
Precise monitoring
Specialized PLC and Windows software allow laboratory technicians to carefully monitor the parameters of each test.
Highly sophisticated
Temperature remains consistent and accurate throughout the process when being transferred from the Metrological Test Bench to the breath alcohol tester by means of the heated breath exit tube.
Multiple device calibration
The Metrological Test Bench can be enhanced with a multiplexer for maximum efficiency. It allows up to 4 additional units to be serviced in sequence for high volume verification testing of evidential breath testers.
Accurate and reliable
The Metrological Test Bench meets or exceeds the requirements of metrology labs, ISO 17025 calibration laboratories and performance testing against OIML R 126 1998 and 2012 test protocols.