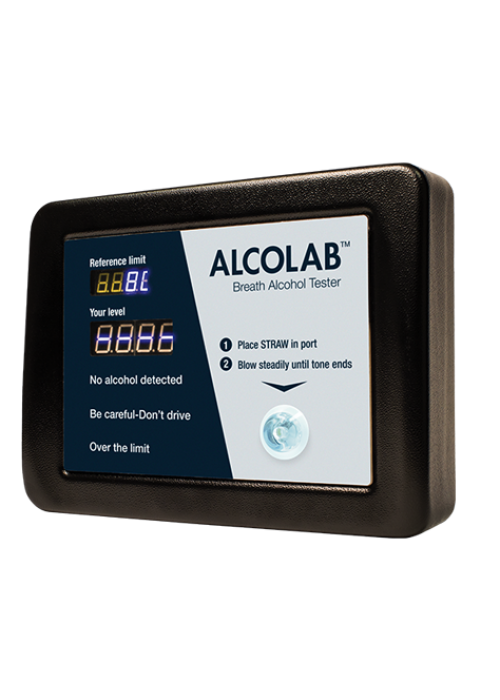 ALCOLAB™
Breath alcohol tester
ALCOLAB is a breath alcohol tester designed for public use and safety sensitive industries. It provides professional-grade accuracy and user-friendly operation to ensure users can conveniently self-administer their own breath alcohol tests with confidence. Fully automated and easy to use, it is engineered for accuracy, reliability and security.
Request a quote
Features
Electrochemical sensor
ALCOLAB uses electrochemical sensor technology, the standard for law enforcement breathalyzers. The professional‑grade sensor delivers results within 10 seconds and is highly specific to alcohol, ensuring other substances such as cigarette smoke, dust, and humidity will not skew results.
Ease of use
ALCOLAB is fast, reliable and fully automated. Simply insert a straw into the ALCOLAB port and blow moderately and continuously for five seconds. The user-friendly LED display indicates the user's BrAC level and the reference limit.
Public and industry safety
ALCOLAB enhances existing safety programs and policies, and is designed and manufactured to operate effectively and reliably in a variety of settings, from public locations such as restaurants and casinos to industrial settings including mining, construction, gas and oil industries and more.